Leadership and management team
Meet the inspiring individuals who lead the Colorado Department of Human Services toward achieving our mission of empowering Coloradans to thrive. Our diverse and dedicated leaders bring a wealth of experience and expertise to the table, making them instrumental in driving our organization toward success. Learn their "why" — where they came from, what led them to CDHS, and what drives them in their work.
Michelle Barnes
Executive Director
Read Michelle's bio

Over her career, Michelle Barnes has championed bold change with her ability to motivate and inspire individuals to identify their highest potential. Today, Michelle can be found maximizing the lives of her fellow Coloradans as the executive director of the Colorado Department of Human Services. As a result of what she does, millions of Coloradans receive support and services that help them to thrive. Earlier in her career, Michelle spent a decade in the technology sector before transitioning to the nonprofit sector. She subsequently served as an interim executive for organizations in transition before accepting her current role as a public servant. She holds an MBA from UCLA and a BA from William & Mary. In her free time, she can be found in the mountains of Colorado or plotting her next adventure.
Pedro Almeida
Deputy Executive Director, Administrative Solutions
Read Pedro's bio

Pedro Almeida has worked in service roles supporting our nation and communities throughout his career. Following 27 years of military service and five years in the Colorado Springs public school system, Pedro now supports the people who help the people of Colorado. He believes deeply in the power of positive leadership and in building effective teams that maximize the potential of all team members. As the deputy executive director of Administrative Solutions, Pedro leads a cadre of experts who support CDHS in human resources, facilities management and maintenance, business technology, data operations, legal counsel, auditing, emergency management and quality assurance. He holds a B.S. from the Massachusetts Institute of Technology and a Master's in International Affairs from Columbia University.
Anne-Marie Braga
Deputy Executive Director, Community Partnerships
Read Anne-Marie's bio

Anne-Marie Braga is a changemaker dedicated to improving people's lives across Colorado. Her commitment to "walking the talk" when engaging with diverse communities; serving individuals, children, youth and families; promoting equity, diversity and inclusion; and making government more efficient has been foundational throughout her career. As the deputy executive director of Community Partnerships for CDHS, she provides strengths-based leadership and direction to various human services programs that help all Coloradans thrive. Before this role, Anne-Marie served for 15 years at the Colorado Department of Public Health and Environment, where she ran children, youth and family programs, directed the Office of Health Equity, and served as the department liaison to county leaders across Colorado. She also served as a case manager in rural Arkansas, supported inner-city youth in New York City, and ran early childhood programs for children with disabilities in New York and Colorado. She holds a Master of Science degree in social work from Columbia University and has earned a variety of state and national awards for her work. 
Perry May

Deputy Executive Director, Health Facilities
Read Perry's bio

Perry May has dedicated his 30-year career to supporting individuals with behavioral health needs and intellectual disabilities. After a 25-year career in the private sector serving these individuals, first as a therapist and eventually as a leader, Perry joined the Colorado Department of Human Services as the deputy executive director of Health Facilities. As a social worker, Perry describes being a public servant for CDHS as "one of the great joys of my life. The opportunity to serve the most vulnerable people of Colorado by working hard to make the services available in the state the best they can be fills my soul." Previously, Perry served as executive director of a large, private, not-for-profit behavioral health organization, providing residential, inpatient, outpatient and in-home services to children and their families, as well as supported employment for individuals with intellectual and developmental disabilities. Perry holds a Bachelor of Science degree in psychology from the University of Oregon and a Master's in social work from the University of Denver. In his free time, Perry enjoys tennis, golf, skiing and many other outdoor sports available in this great state.
Clint Woodruff

CFO and Deputy Executive Director, Financial Services
Read Clint's bio

Clint Woodruff has a natural talent for numbers. He has excelled in working with numbers since he was a child, resulting in him being named the top math and science high school student in Colorado his senior year. That led to academic scholarships and attending the University of Colorado, where Clint earned a bachelor's degree in finance and followed up with an MBA from Regis University. Clint went on to successfully lead the financial departments of several companies in the private sector before joining CDHS as a controller in 2012. He now serves Coloradans as the chief financial officer for the department. Utilizing his wealth of expertise and experience, Clint oversees all financial aspects of the department with a focus on long-term planning and strategy. When not managing the numbers at CDHS, Clint enjoys spending time with his wife and two boys, road trips, and anything to do with football.
Kevin Neimond

Chief Policy and Communications Officer
Read Kevin's bio

Kevin Neimond is a high-energy leader who is determined and persistent in ensuring that CDHS's promise to deliver bold and innovative health and human services is always improved and never compromised. As the chief policy and communications officer for the department, Kevin provides strategic and operational direction for the agency's legislative, regulatory and communications agendas. In this role, he adeptly navigates external and internal challenges to bring about changes that positively impact Coloradans ability to thrive. Previously, Kevin served as a staffer for the Colorado General Assembly, first as the reading and docket clerk for the House of Representatives for three years and then as a chief legislative analyst for the Joint Budget Committee for 10 years. Prior to coming to Colorado, he spent six years in Washington, D.C., as policy at the National Association of Counties and as an account manager for ESRI, Inc. Kevin holds a Bachelor of Arts degree in geography from Penn State University and a master's in public administration from the University of Colorado. Kevin enjoys music, hiking, camping and tinkering on various projects in his free time.  
Katy Morrison

Chief Strategy Officer 
Read Katy's bio

Katy Morrison is a problem solver who thrives in leading high-functioning teams. She has worked in public service for 18 years in both county and state governments in Nevada and Colorado. Various leadership roles led her to her current position as chief strategy officer. Katy possesses a unique skill set, which includes the ability to analyze complex issues, identify areas for improvement, and develop effective solutions that positively impact Coloradans. Her passion for public service is on display every day as she guides a strategic, bold and innovative approach to problem-solving and helping the department better serve its clients. Katy holds a bachelor's degree in criminal justice and forensics from Jacksonville State University. 
Minna Castillo

Director, Office of Children, Youth and Families
Read Minna's bio

Since 2017, Minna Castillo has directed the operations of programs and facilities that improve the safety, independence and well-being of Colorado's children, youth and families. Her work at the Office of Children, Youth and Families (OCYF) demonstrates her dedication and commitment to helping families have what they need to thrive. That work includes a commitment to equity, diversity and inclusion (EDI) practices, elevating family and youth voices, and collecting and leveraging data to expand evidence-based prevention services. Minna oversees the OCYF divisions of Child Welfare, Youth Services, and Community Programs — which includes the Colorado Sexual Health Initiative, Domestic Violence Program, Juvenile Parole Board, Tony Grampsas Youth Services Program, and Collaborative Management Program. She also oversees OCYF's Colorado Implementation Science Unit and Medical Oversight Unit. Prior to joining OCYF, Castillo Cohen spent 20 years in the nonprofit sector, with all of her work focused on serving families. She is passionate about immigrant and refugee issues, substance use prevention, bicultural competence, and mentoring.
Leora Joseph

Director, Office of Civil and Forensic Mental Health
Read Leora's bio

Throughout her career, Leora Joseph has fought for justice for the most vulnerable people caught in the complex criminal justice system. Her passion is driven by her faith and the Jewish teaching of Tikkun Olam, the obligation to repair the world. She brings that spirit to her work as the director of the Office of Civil and Forensic Mental Health (OCFMH), which serves Coloradans with the most acute behavioral health needs, many of whom are justice-involved. Leora is committed to transparent processes and is working to develop statewide partnerships. Leora believes that only through meaningful relationships can we be agents of powerful change to better the lives of Coloradans. Leora has served as deputy chief of the Family Violence and Sexual Assault Bureau in the Boston (Suffolk County) District Attorney's Office and managing chief of the Special Victims Unit, Domestic Violence and Human Trafficking Unit in Colorado's 18th Judicial District. Leora was awarded the Colorado Woman Lawyer of the Year in 2016 and the Ralph Martin Prosecutor of the Year in 2008. She has been a frequent lecturer at many universities, including the University of Colorado Denver and Harvard Law School. Leora is most proud of her three children; motherhood continues to teach her about leadership, service and hope.
Yolanda Webb

Director, Office of Adult, Aging and Disability Services
Read Yolanda's bio

Yolanda Webb is known as "The People Whisperer" for her understanding of human behavior and for assisting teams in understanding the dynamic needs of older adults, people with disabilities and our nation's veterans. Exuding a dynamic, effective and influential leadership style that motivates, Yolanda successfully balances the work of those we serve with the needs of those who serve. Serving as director for the Office of Adult, Aging and Disability Services, she aligns the day-to-day work of the office around the values of diversity, equity, inclusion and accessibility. Serving in executive leadership roles for many years, and most recently as the senior vice president for a non-profit organization in Tennessee serving older adults, veterans and those with intellectual and developmental disabilities, she brings her passion for serving the world around her to CDHS. Yolanda holds a B.A. from Tennessee State University, a Historically Black College and University (HBCU), and an M.A. in humanities from Xavier University in Cincinnati.
Amy Ferrin
Chief Legal Director
Read Amy's bio

Amy Ferrin's call to public service and her enthusiasm to solve difficult problems led her to the role as CDHS's chief legal director. Amy spent 11 years of her legal career as a deputy district attorney for Colorado's 18th Judicial District, primarily handling cases involving victimization of vulnerable children and at-risk adults. As a district attorney, she collaborated with community partners and stakeholders and learned that many vulnerable members of our community rely on CDHS programs and services to thrive. Amy also managed teams and served on task forces – where she worked to solve difficult problems related to child welfare, office culture and productivity, and quality of services. As chief legal director, she helps CDHS manage risk and deliver high-quality services while embracing its bold and innovative vision. Amy is a Colorado native who is thrilled to be part of the team of people who help people.

Amy received her law degree from the University of Denver. She is a life-long learner who loves to read social science. In her free time, she enjoys getting outdoors with her family.
Sandy Ho
Chief EDI Officer
Read Sandy's bio

Sandy Ho (they/she) champions accountability and access. For almost two decades, Sandy has been improving workplace cultures and elevating service to communities. As the chief equity, diversity and inclusion (EDI) officer for CDHS, they lead the internal and external EDI efforts of the department to create equitable and inclusive environments that reflect and respect the individual identities, abilities and backgrounds of our employees, clients, patients, communities and partners. They also lead the way in fulfilling the five-year CDHS EDI Action Plan to help all employees embrace our diversity while taking opportunities to succeed. Sandy holds a Ph.D. in leadership, research and policy from the University of Colorado.
Shelley Banker
Director, Office of Economic Security
Read Shelley's bio

Shelley Banker is a visionary leader who is passionate about changing inequities, disrupting social injustice, and organizing and empowering communities. As the director of the Office of Economic Security, Shelley leads a team working to improve policies, build support systems and eradicate poverty. Shelley has more than a decade and a half in nonprofit, private and public sectors promoting educational equity and access in Colorado's postsecondary systems, including through the implementation and expansion of the Colorado Opportunity Scholarship Initiative (COSI), and the establishment of the Colorado Department of Higher Education's Educational Equity Office and Equity Champions Coalition. Shelley received her MSW from the University of Denver's Graduate School of Social Work and a Bachelor of Science in business administration from the University of Colorado Denver. Shelley serves on the Denver CASA Board of Directors, is a second-generation Coloradan, and enjoys introducing her daughter to everything nature offers.
Christina Mohler
Chief Human Resources Officer
Read Christina's bio

Christina Mohler's passion is developing individuals to their highest potential. She approaches work with a learning mindset and leads with integrity and a focus on building relationships. With more than 20 years of HR experience, she is experienced in all facets of HR and excels at managing teams, developing leaders and driving organizational change. Using a strategic approach and excellent problem-solving skills, Christina has a proven track record of quickly achieving results in complex, fast-paced organizations. Christina holds a bachelor's degree in business administration from Illinois Wesleyan University and a master of professional studies degree in human resources and employment relations from Pennsylvania State University. 
Misgana Tesfaye

Director of Business Innovation, Technology and Security
Read Misgana's bio

Misgana Tesfaye's passion for public service led him to his role as the director of Business Innovation, Technology and Security (BITS) at the Colorado Department of Human Services. This division manages CDHS technology projects and initiatives in partnership with the Governor's Office of Information Technology. Misgana joined CDHS from the Colorado Department of Revenue, where he was the deputy director of the Business Innovation Group. Misgana served at the Department of Revenue for 17 years before joining CDHS. He started his public service career as an auditor and quickly moved into technology when he worked on the Colorado Integrated Tax Architecture project, which modernized Colorado's tax administration systems. In his current role, he focuses on improving ongoing operations' efficiency and increasing the value obtained from investments in enterprise solutions. Misgana has an MBA with an undergraduate degree in accounting and finance. He is a Professional Scrum Master and is passionate about agile transformation in state government. Misgana is a proud husband and a father of two. In his personal time, he loves traveling the world and sharing the amazing Colorado outdoors with his wife and children.
Andrea Eurich
Controller
Read Andrea's bio

Andrea Eurich thrives in the details. As the controller for CDHS, she has exercised that eye for detail in providing a high level of accounting expertise for the past 27 years. Andrea is a trusted and knowledgeable leader in her field and has a proven track record of solving complex accounting problems. Always putting staff first, she is a guiding light in a large department in ensuring that payroll is accurate and timely while establishing and maintaining effective internal controls. In addition, she is an expert in developing financial models and forecasting while identifying and leveraging financial systems to increase efficiency and maximize cost savings. Andrea holds a bachelor's degree in accounting from Metro State University and an MBA from Webster University. When not crunching the numbers for CDHS, Andrea enjoys spending time with her husband and two children.
Telly Belton
Controller
Read Telly's bio

Telly Belton brings her passion to work every day. She is passionate about the people served by health and human services programs and has personal connections to several services that CDHS provides to Coloradans. Her passion for service started at the federal level as an auditor for the Health and Human Services Office of the Inspector General. After two years at the federal level, Telly chose to bring her skills closer to home and joined CDHS as a program accountant. In her career with CDHS, she continued to grow into positions of responsibility in the Internal Audit Division, resulting in her promotion to director. Most recently, Telly was promoted to the controller of CDHS, and she looks forward to continuing to serve the department and our clients in her new role. Telly is a Metro State University graduate and a proud mother of three amazing sons.
Christina Beisel

Budget Director 
Read Christina's bio

Christina Beisel is a relationship-builder and a people person, two skills she utilizes to ensure programs have the funding they need to deliver quality services to all Coloradans. As the budget director for the Colorado Department of Human Services, Christina works with department staff to identify priorities and align funding with policy needs. She came to CDHS after more than six years at the Colorado General Assembly as a legislative budget and policy analyst with the Joint Budget Committee. Before that, Christina worked for a small nonprofit after starting her career at the City and County of Denver. She spent most of her childhood in beautiful southwest Colorado before moving to Boulder to attend the University of Colorado. Outside of work, Christina loves all things food related, traveling, rewatching "The West Wing," and over-quoting Taylor Swift lyrics. 
Renée Marquardt
Chief Medical Officer
Read Renée's bio

Renée Marquardt, M.D., serves as the internal consultant to CDHS regarding medical and psychiatric oversight and planning. She has more than 20 years of medical experience, including extensive work with child welfare, developmentally disabled and juvenile justice populations. She also has a background in child development and neuroscience research and clinical program development and oversight. Renée is board certified in child adolescent psychiatry and adult psychiatry.
Sarah Dawson

Director of Operations, Community Partnerships
Read Sarah's bio

Sarah Dawson has been an advocate for social justice her entire life. She believes all people deserve the opportunity to thrive and the support to do so. For the past 10 years, she has been committed to driving community engagement. Joining CDHS in 2018 and now serving as the director of strategic operations for Community Partnerships, Sarah provides critical support to counties and partners in the shared effort to serve all Coloradans. Sarah is instrumental in building strong partnerships and collaborations with community-based organizations, government agencies and non-profits to improve the lives of underserved populations. Sarah earned her bachelor of social work from the University of Arkansas and her master of social work from the University of Denver. 
Kim Farestad

Deputy Director, Health Facilities
Read Kim's bio

Kim Farestad's career has been guided by a quote from Theodore Roosevelt: "Far and away the best prize that life has to offer is the chance to work hard at work worth doing." She lives by that quote, as she did for 18 years at Devereux Advanced Behavioral Health Colorado, a private, non-profit residential provider for adolescents. In various positions as a manager and director at Devereux,  Kim helped drive the operational strategies for the organization while also doing what was best for the children served. 

As the deputy director of Health Facilities at CDHS, she is an innovative and effective leader with a focus on delivering high-quality care to our patients and clients while improving efficiency. In her role, Kim applies her skills in successfully managing the development and coordination of operational strategies for CDHS facilities while optimizing resource allocation and budget management. Kim earned a bachelor's degree from the University of Denver with a double major in biology and psychology.  
Mark Techmeyer
Director, Division of Communication Services
Read Mark's bio

Mark Techmeyer's passion for storytelling led him to a career in communications. As the director of the Division of Communication Services, he thrives on ensuring a people-first approach in telling stories of the department's impactful work in serving Coloradans. Just as important, Mark believes an organization's ability to communicate effectively with staff is critical to its success. As a result, the department has built a reputation of transparency and engagement with staff and stakeholders. Previously he served as a public information officer and director of public affairs in law enforcement and as a marketing and advertising professional. Mark holds a Master of Science in organizational leadership from Colorado State University.  
Executive-level organizational chart
CDHS has four offices that interact with the public and several internal offices. The highest leadership level is the Senior Executive Team, led by the executive director and other senior leaders. The next level is the Executive Management Team, including office directors and select division directors. Below that is the Expanded Executive Management Team, with deputy office directors and division directors. Below the division level, there are many programs and facilities, each with its own directors and managers. The org chart below includes only offices and divisions.
Download a PDF version of the CDHS org chart.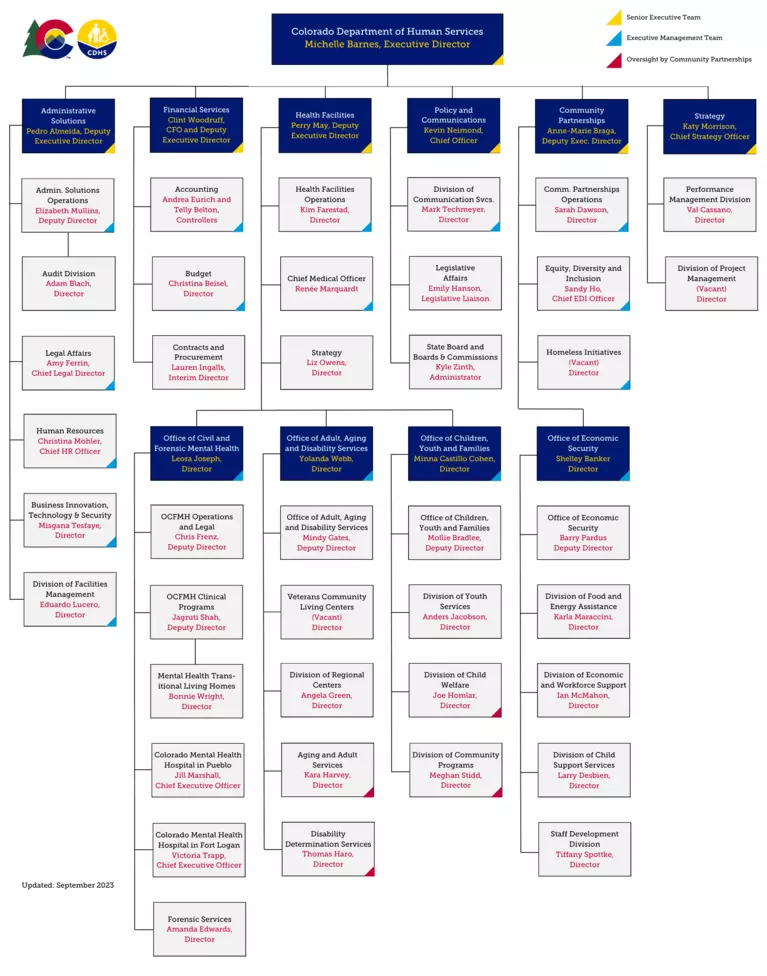 Offices, divisions and units
CDHS is comprised of four public-facing offices and several internal-facing offices. Each office is made up of multiple divisions, and the majority of divisions are made up of multiple programs and/or facilities. Expand the sections below for a complete list of offices, divisions, programs and facilities.
Office of Adult, Aging and Disability Services
The Office of Adult, Aging and Disability Services fosters independence to Coloradans through access to seamless and responsive personalized service. The office focuses on services and programs benefiting older adults, people with disabilities, and veterans and veterans' spouses requiring skilled nursing and domiciliary care.
Divisions and programs
Office of Civil and Forensic Mental Health
The Office of Civil and Forensic Mental Health provides strategy, oversight, monitoring and operation of two Colorado Mental Health Hospitals, as well as a Forensic Services division. 
Divisions and programs
Office of Children, Youth and Families
The Office of Children, Youth and Families is responsible for the coordination of quality and effective services for Colorado's most vulnerable children, youth and their families. The office supervises Colorado's child welfare system and operates the state's youth services system, as well as several other programs.
Divisions and programs

Organizational Support
Permanency
Youth Services
Finance
Placement Services
Child Protection Services

Division of Community Programs

Medical Oversight Unit

Finance

Communications

Judicial and Legislation

Colorado Implementation Science Unit

Download a PDF of the Office of Children, Youth and Families organizational chart 
Office of Economic Security
The Office of Economic Security provides income, nutritional and support services to those in need. Primary programs include the Supplemental Nutrition Assistance Program (SNAP), the Low-income Energy Assistance Program (LEAP), and several employment programs.
Divisions and programs

Division of Child Support Services

Division of Food and Energy Assistance

Division of Economic and Workforce Support

Staff Development Division
Community Partnerships
Community Partnerships builds relationships within the department and with communities across the state to serve Coloradans effectively. The office also oversees several CDHS offices, as well as Boards and Commissions, Community and Family Engagement, and County Services.
Divisions and units

Client Services

Community and Family Engagement

County and Tribal Liaisons

Equity, Diversity and Inclusion

Implementation and Strategic Planning

Operations
Administrative Solutions
Administrative Solutions provides support services to help CDHS's offices, divisions and programs achieve their goals and make our agency as efficient, effective and impactful as possible.
Divisions and units

Human Resources

Business Innovation, Technology and Security

Business Innovation
Technology Product Owners
Security/IT Compliance
Technology Contract Management

Legal

CORA/records
Office of Appeals

Quality Assurance

Facilities Management

Audit
Financial Services
Financial Services is responsible for CDHS's more than $2 billion budget. The office's primary functions are accounting, budgets and policy, and contracts and procurement.
Divisions

Accounting

Budget and Policy
Policy and Communications
CDHS's Policy and Communications office develops the agency's legislative agenda and coordinates relationships with the state legislative branch, community stakeholders and Colorado's counties. The office also includes the department communications team and manages the State Board of Human Services and other boards and commissions.