#FFFFFF
Fraud alert for EBT card holders

Your EBT card and benefits could be at risk. EBT cards are being skimmed and cloned, and anyone can access your benefits if they have your card number and PIN information. Here's what you need to know:
 
Lost or stolen SNAP benefits cannot be replaced when the card and PIN are used.
 
Keep your EBT card safe through a couple of easy steps:

Change your PIN often to prevent fraud. Follow these step-by-step instructions to change your PIN.
Freeze your EBT card to stop new purchases and PIN changes and restrict out of state or online transactions. 

Log into the ebtEDGE mobile app from your smartphone or visit the online Cardholder Portal. 

For additional information, please see "How do I protect my benefits on my EBT card?" (below)

Traveling out of state? Know the following before you go.

Colorado may block transactions in cities and states where fraud has taken place.
To use your EBT card in a city/state where transactions are being blocked, call 1-800-536-5298 before you leave. The Colorado EBT program can help unblock your card for use.

Receiving Cash Assistance? Consider direct deposit.

Fill out the Client Direct Deposit form to begin receiving your benefits directly in your bank account, rather than on an EBT card.
Looking for the P-EBT program?

The Pandemic Electronic Benefit Transfer (P-EBT) program is a federal program created to provide food assistance to Colorado families with students or young children who had reduced access to meals due to the COVID-19 pandemic.

Visit the P-EBT program page
Discounts for EBT card holders

Individuals and families who participate in the Colorado Supplemental Nutrition Assistance Program (SNAP) are also eligible to enjoy deeply discounted admissions to museums and cultural centers throughout the state just by showing their EBT card when purchasing tickets.

Visit the EBT discounts page
About the Colorado EBT program
The Colorado Electronic Benefits Transfer (EBT) program, in partnership with a third-party vendor, is responsible for ensuring that Supplemental Nutrition Assistance Program (SNAP) and Cash Assistance payments authorized by each county department of human services are issued to approved recipients. The EBT program processes payment files for SNAP and multiple cash assistance programs. 
SNAP is distributed to a Colorado EBT card, also known as the Colorado Quest card. SNAP benefits must be used for SNAP-approved items and cannot be withdrawn as cash.
Cash benefits are distributed either to the EBT card, a personal bank account or to a prepaid KeyBank debit card via direct deposit. The payment method is determined by the recipient and can be updated at any time.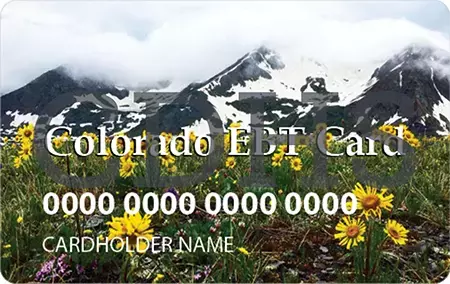 #FFFFFF
Frequently asked questions about EBT
EBT card information
SNAP on my EBT card
Cash on my EBT card
Direct deposit and KeyBank prepaid debit card