SNAP-Ed is the nutrition education and obesity prevention arm of the Supplemental Nutrition Assistance Program (SNAP), Colorado's food assistance program. SNAP-Ed's goals are to teach Coloradans how to buy and prepare healthy foods on a budget; motivate people to increase their physical activity; introduce kids to fruits and vegetables through nutrition classes, school gardens and healthier school lunchrooms; and make positive and healthy changes in the environments where our families live. SNAP-Ed partners with several statewide nutrition education organizations to reach Colorado families and individuals.
Healthy tips for families
Families across Colorado are getting healthy their own way with our Eat Better Together campaign. Check out the tips below from the Eat Better Together website to learn how to make nutritious meals on a budget and discover tasty new ways to serve fruits and veggies.
Find recipes that work your way
Looking for new foods you and your family will love? The Eat Better Together recipe finder isn't just fun to use — it can also help you find healthy meals that match your favorite flavors, whether you like spicy, sweet or savory foods.
Nutritious and delicious snacks
Want some great ideas for making snack time more healthy? Check out the Eat Better Together website for perfect pairings that take nutritious snack foods and make them even more delicious.
Find free nutrition education classes
SNAP-Ed offers nutrition education classes to children, adults, families and older adults. The classes are fun and engaging and can be in-person or virtual. Fill out the form below to find classes and grocery store tours for yourself and your family, receive healthy text message programming, or bring nutrition classes to your school, early childhood center or community.
Expand to view form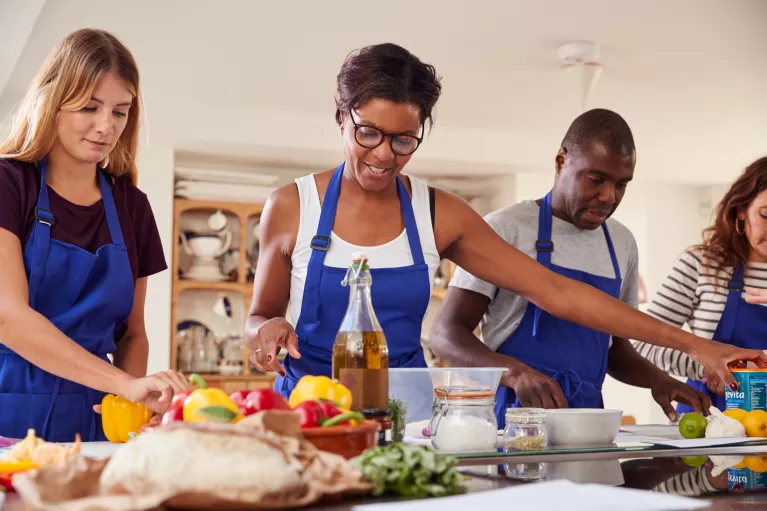 SNAP-Ed's community partners
SNAP-Ed partners with several statewide nutrition education organizations. Visit their websites to learn more about them and find more nutrition education resources.
Cooking Matters
Colorado
Cooking Matters Colorado offers cooking courses, grocery store tours and childcare professionals trainings to families across Colorado. Participants learn to shop smarter, use nutrition information to make healthier choices, and cook delicious, affordable meals.
Integrated Nutrition
Education Program
The Integrated Nutrition Education Program is a creative and fun way for kids to learn about healthy eating in their classrooms and to share what they learn with their families. INEP partners with the University of Colorado and various school districts.
Culture of Wellness
in Preschools
Culture of Wellness in Preschools is a comprehensive and collaborative early childhood obesity prevention program, which aims to promote a "culture of wellness" in preschool settings by increasing fruit and vegetable consumption and physical activity levels.
Visit Culture of Wellness in Preschools >>
SNAP-Ed results and annual plan
SNAP-Ed teaches programming that has been proven to make a difference. Each year we reach thousands of adults and youth by teaching lessons that empower people to make healthy changes. Check out our most recent impact report, success stories and annual plan to learn more about the reach of SNAP-Ed.
Colorado SNAP-Ed impact report

Download the 2019 SNAP-Ed Success & Impact Report, which covers SNAP-Ed programs in the Mountain Plains and Southwest regions. Colorado highlights are shown below.

 

Success stories from SNAP-Ed and our partners

Healthy recipes and information shared through Snap2Save app

The grocery chain Save-A-Lot has been looking for new ways to help shoppers increase access to healthy food, specifically fresh fruits and vegetables. The chain recently partnered with Snap2Save, a shopper loyalty app, and Cooking Matters Colorado to provide an incentive for fresh fruit and vegetable purchases and to integrate healthy recipes and SNAP-Ed content through their loyalty app and in-store kiosks. There has been a steady increase of shoppers enrolling in the loyalty program, who immediately start to earn and redeem their healthy food rewards. All of these users have access to the food-skills education content provided by Cooking Matters.

Text2LiveHealthy benefits families, especially Spanish speakers

SNAP-Ed's Text2LiveHealthy intervention has more than 3,000 subscribers in elementary schools and preschools across Colorado. Participants receive weekly texts in English and Spanish about nutrition and physical activity. The program has had a measurable impact on families, but the outcomes have been more pronounced among the Spanish-speaking community. The Latino participants have identified language and cultural adaptation, ways to involve family in making healthy changes, and connection with community as critical pieces of the program that made Text2LiveHealthy a success within this community. Latino participants feel they are part of a larger community working towards health.

Partners help start school gardens in Alamosa and Colorado Springs

INEP worked closely with the Children's Garden in Alamosa to get a school garden started at the school. This included ensuring that all students had a role in garden prep, but also that the produce could be prepared in the cafeteria and served to students for a snack. The school staff are very committed to providing garden education and have even created a sustainability plan to include the garden in the school budget. COWP helped Horizons Child Care in Colorado Springs begin a container garden for the children to interact with daily. The class planted a garden in a recycled plastic bin and spent their summer weeding, watering and moving the garden multiple times a day to ensure it received enough sunlight. Children participated in harvesting and tasting the produce.

FY 2023 SNAP-Ed plan

CDHS partners with agencies to create a SNAP-Ed plan every year. This plan includes strategies to reach thousands of Coloradans on healthy eating and physical activity. View the FY 2023 SNAP-Ed plan.