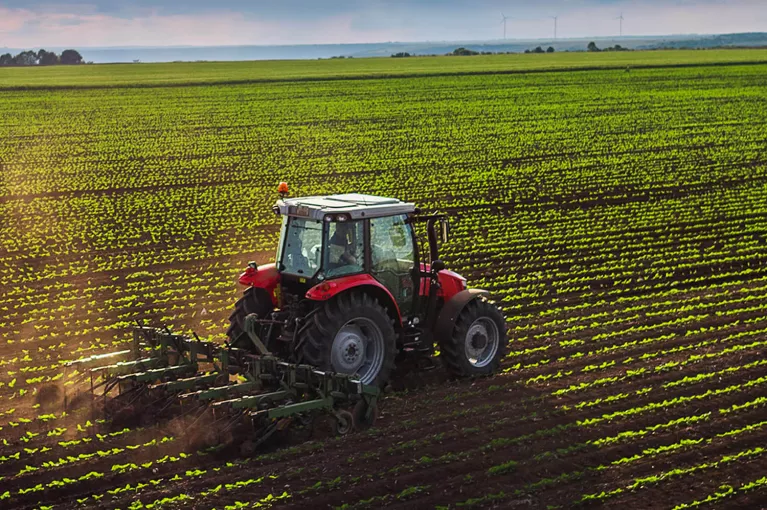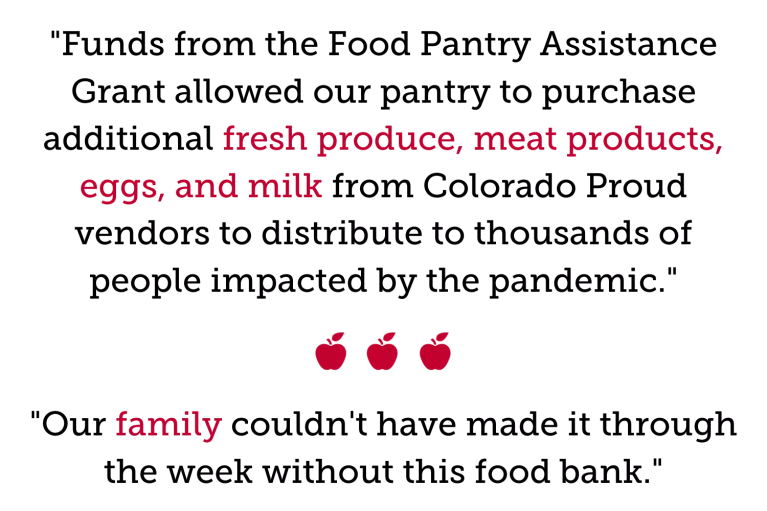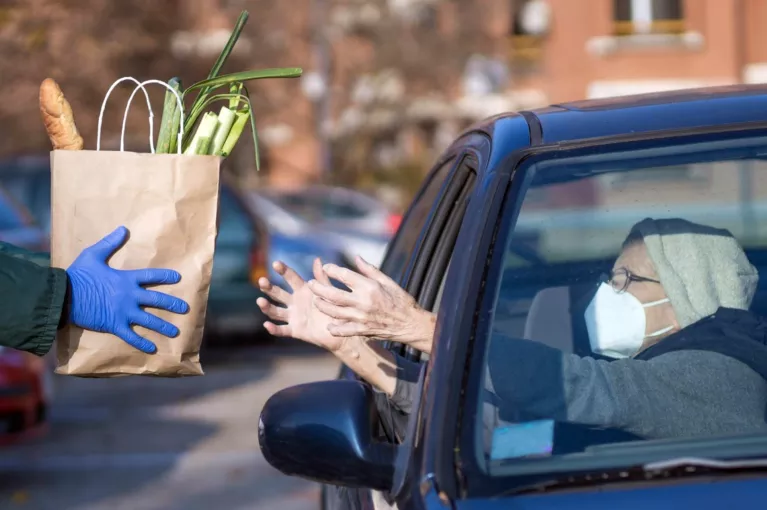 In 2020, in response to the COVID-19 pandemic, Colorado food banks and pantries received Food Pantry Assistance Grants as part of the CARES Act. Grantees used funds to provide healthier foods like fresh meat and produce, serve more people in need, and support local producers by purchasing Colorado agricultural products.
At the end of the program, food banks and pantries were asked to submit a final report, and client surveys were conducted across the state. The result was this report, which is summarized below.
Background
In the midst of the COVID-19 pandemic, Gov. Jared Polis signed House Bill 20-1422 to assist Coloradans in need with food relief. This bill provided $600,000 for the Colorado Department of Human Services to administer grants to food banks and food pantries across the state. In addition, the legislation intended to create and expand market opportunities for Colorado's agricultural products. One of the bill's goals was that the funds would be spent on Colorado grown, raised, produced or packaged goods. 
Participants
A total of 123 food banks and pantries participated in the program throughout Colorado, with 115 of those participants submitting final grant reports. Of those 115 pantries, 68 are located in urban communities, 31 in rural communities, 16 in frontier communities.
Grantees were also asked to administer a client survey. More than 3,900 client surveys were conducted statewide.
List of participating food banks and pantries

5 Loaves Pantry
Amazing Grace Community Church
Amazing Grace Community Church Pastor's Pantry
Ark Valley Helping Hands
Arvada Community Food Bank, Inc. dba Community Table
Aurora Interchurch Task Force Inc., DBA Aurora Interfaith Community Services (AICS)
Bayaud Enterprises, Inc.
Bienvenidos Food Bank
Boulder County AIDS Project
Boulder Food Rescue
Care and Share Food Bank
Caring & Sharing Community Resources and Transformation Center
Castle Rock Community Inter-Church Task Force dba Help & Hope Center
Catholic Charities-Guadalupe Shelter
Children's Hospital Colorado Foundation-Children's Hospital Colorado
Christian Action Guild
Clifton Chirstian Church Food and Clothing
Colorado Health Network, Inc.
Commún
Community Cupboard Food Pantry Woodland Park
Community Food Bank of Grand Junction 
Community Food Share
Community Ministry or Southwest Denver
Community Services of Broomfield, dba Broomfield FISH
Community United Methodist Church
Connections 4 Life
Cooperating Ministry of Logan County (CMLC)
Custer County Community Sharing Center
David Clifton Ministries,Inc
Denver Indian Center, Inc.
Denver Inner City Parish
Denver Sisters Circle 
Denver South High School Food Pantry
Destination Ministries
Durango Food Bank
Dynamic Dimensions Inc
Eagle Valley Community Foundation
Ecumenical Church of Pueblo West
Emergency Family Assistance Association
Evergreen Christian Outreach
Family & Intercultural Resource Center
Family Resource Center
Fighting to Farm
First United Methodist Church
Food Bank for Larimer County
Foodbank of Kiowa Creek Community Church
Fort Lewis College Grub Hub
Four Corners Food Coalition (Fiscal Sponsor Good Samaritan Center)
Fresh Start Center
Gilpin County Food Pantry
Good Food Collective
GracePoint Community Church Food Bank
Grand Valley Catholic Outreach
Growing Home Inc.
Henderson Congregational Church dba Henderson Community Church
Homeward Alliance
Hope Starts Here Food Bank
House of Neighborly Service
IFCS Integrated Family Community Services
Jewish Family Service of Colorado, Inc
Joys Kitchen
Kaizen Food Rescue (KFR)
Karis, Inc. 
Kavod Senior Life
La Plata Family Centers Coalition 
La Puente Home, Inc.
Las Animas Helping Hands
Lyons Emergency Assistance Fund (LEAF)
Lift Up of Routt County
Lighthouse Food Pantry
Manna - The Durango Soup Kitchen
Mercy's Gate
Metro Caring
Metro Ministries, Inc
Mile High Ministries
Mission Arvada at Arvada Central Baptist Church
Mountain Family Center
Mountain Resource Center
Mountain Roots Project
Mountair Christian Church Food Pantry & Clothes Closet
Nativity Lutheran Church
Nazarene Food Pantry of Palisade
Nederland Food Pantry
Open Arms Food Bank 
Outreach United Resource Center, Inc.
Peace With Christ Lutheran Church
Pierce Methodist Church Food Pantry
Prairie Family Center
Presbyterian Church of Covenant /Covenant Cupboard Food Pantry
Rangely Food Bank
Reachout Ministries 
Redeeming Love Fellowship Church
Redistribution Center, Inc
Rising Up
Sacred Heart House of Denver 
Salida Senior Citizen, Inc. dba Salida Community Center
Silver Key Senior Services
Sister Carmen Community Center
Small Town Project
SouthWest Improvement Council
Sparrow House Ministries
Springs Food Pantry 
St. Augustine Food Pantry
St. George Episcopal Church
TARA Food Pantry
The Action Center
The Gathering Place: A Refuge for Rebuilding Lives 
The GrowHaus
The Hands of God Ministry
The Salvation Army
Tin Shed
Tri-Lakes Cares
West End Family Link Center
Findings
Grantee food banks and food pantries were asked to submit a final report on the impact of the grant in their community, with 115 grantees submitting final reports. They were also asked to administer a client survey, with more than 3,900 such surveys conducted statewide. Survey results showed that this grant brought important foods to Coloradans, with 38 percent of respondents reporting there was more fresh produce available; 18 percent reported more fresh/frozen meat; 1 percent reported more dairy products; 15 percent reported more eggs; and 12 percent reported more grains.
Survey data also showed what foods respondents need more of. Almost half of respondents (49 percent) reported that they need more dairy products; 45 percent reported they need more meat, more fresh fruit, and more fresh veggies; 42 percent reported the need for more eggs; and 23 percent reported they need more grains.
Other notable findings included:
Food banks and pantries reported that the grant funding increased their capacity to serve more people and meet a significant increase in need. 
77 percent of clients prefer Colorado agricultural products and have a desire for fresh foods.
Purchasing locally grown, raised or produced goods proved to be more difficult for small pantries than anticipated.
One-third of all households visiting pantries had never been to a food bank or pantry before the pandemic.
Reduced hours at work (54 percent) and lost jobs (41 percent) were the top two impacts of the COVID-19 pandemic experienced by households that participated in the client survey.
Related links
Feeding Colorado
Colorado Market Maker
Colorado Proud
Colorado Food Pantry Network
Colorado Pet Pantry
National Diaper Bank